Breakthrough Times Two: Personal & Professional
This website and everything herein is designed to equip you for your breakthrough. It's mostly geared toward the professional side of building an effective ministry, but concepts can be easily applied to personal, individual breakthroughs as well. Enriching and enlarging the kingdom work on earth must come from revelation in both areas, because how can we serve effectively OUTWARD if we're feeling "stuck" INWARD? Therefore, be open to discover your 'personal' breakthrough areas right along with your 'professional' ones, having an undivided heart.
The Art of Breakthrough: Equipping Christians On Purpose, For Purpose is a creative process designed to promote an atmosphere of discovery, unlocking the obstructions and gaining the tools needed to walk boldly in your high calling with Jesus Christ. This is a program I developed, which parallels the creative process with real-life topics (ones that can render us "stuck"). From idea concept all the way to the finished masterpiece, uncover God's secret individual formula for you –to the breakthroughs you've been looking for.
Encompassing time tested truths, bible stories and my own personal experience, you'll feel like I'm right there, walking the journey with you. Because I am. I only teach on things I've been through myself. My prayer is that through this, you'll emerge with a greater level of understanding and clarity, and a deeper, richer faith in God's amazing plan for you.
Personal Breakthrough…

God doesn't want your past (or even current) circumstances to define you. In fact, He's got a promise that I want you to hold onto. In Isaiah 61:3, it says God wants to "bestow a crown of beauty instead of ashes, the oil of joy instead of mourning, and a garment of praise instead of a spirit of despair. They [you] will be called oaks of righteousness, a planting of the Lord for the display of His splendor."
Wow. Wow. Wow.
Did you catch the magnitude of that? We'll hand him the ashes of the burnt up mess, and he'll trade us for a crown of beauty. Good deal? Yes, I think so.
He'll wipe the tears from our eyes and anoint us with the oil of joy. I'll take that, how about you?
He'll take away the cold, heavy burden of despair, and instead, wrap a warm blanket of praise around our tired bodies. Sound heavenly? It is.
And if all that wasn't enough, He's promised to grow us strong like a big, beautiful tree that'll be viewed as God's splendor (which means magnificence, brilliance, and grandeur.) Not only is that poetic, but the meaning behind the words is nothing short of incredibly awesome.
Professional Breakthrough…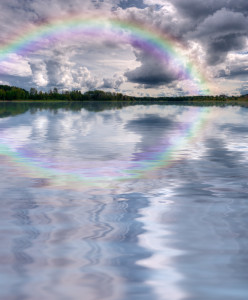 Feeling a bit overwhelmed with all the ins and outs of ministry leadership?
Let's take a peek inside Isaiah 61:4. In fact, this promise comes right after the one I used above regarding personal breakthrough. Is it any coincidence that when our personal lives become "God's splendor" that He has a big plan after that? Hmmm… I don't think so. It's perfect timing to dig into His greater "collective plan". The verse reveals, "They will rebuild the ancient ruins and restore the places long devastated; they will renew the ruined cities that have been devastated for generations."
Sounds like ministry to me! Rebuilding the ruined places and restoring the devastation. Yep, Every single ministry I've seen started with a version of that. A need recognized. A spiritual compulsion to not walk away from it. Pushing through to create a solution. That is the power of Christ in us when we come together unified, so that big things – GOD SIZED things – can happen.
Yet time and time again, obstacles overwhelm us. I'm here to share my wisdom in these areas, hoping it'll give you strength to press in, releasing your God-given vision (ministry) to walk out the calling of it's mission, and to be the hands and feet of Jesus in this hurting world.
Getting Started
Start boosting your ministry RIGHT now with the FREE 2 Week Tweak: Breaking Through the Top 10 Ministry Crushers
Start your Breakthrough Times Two when you schedule your FREE Consult with Noelle Okolowicz
Order the full Art of Breakthrough curriculum, complete with book and companion guide here {{when it is ready – Coming SOON!}}